Welcome to Week 1 Project Run and Play – 1+1=SCHOOL. I am so excited to show you all what I have been working on for the past few weeks.
Back to School is my favorite time of the year. It means cool weather and a colorful fall is coming soon. Just dreaming Texas doesn't have fall…only summer)))
I would often hear people asking what Back to School looks like for a homeschooler? Don't we just come downstairs and start the new lessons?  Do we really do school in our pajamas? Well, honestly, we love homeschooling and we pretty much fancy it up and all. No matter if it is the math lesson at the desk, the science test in the garden or an art lesson in the museum, my daughter loves to be in a dress.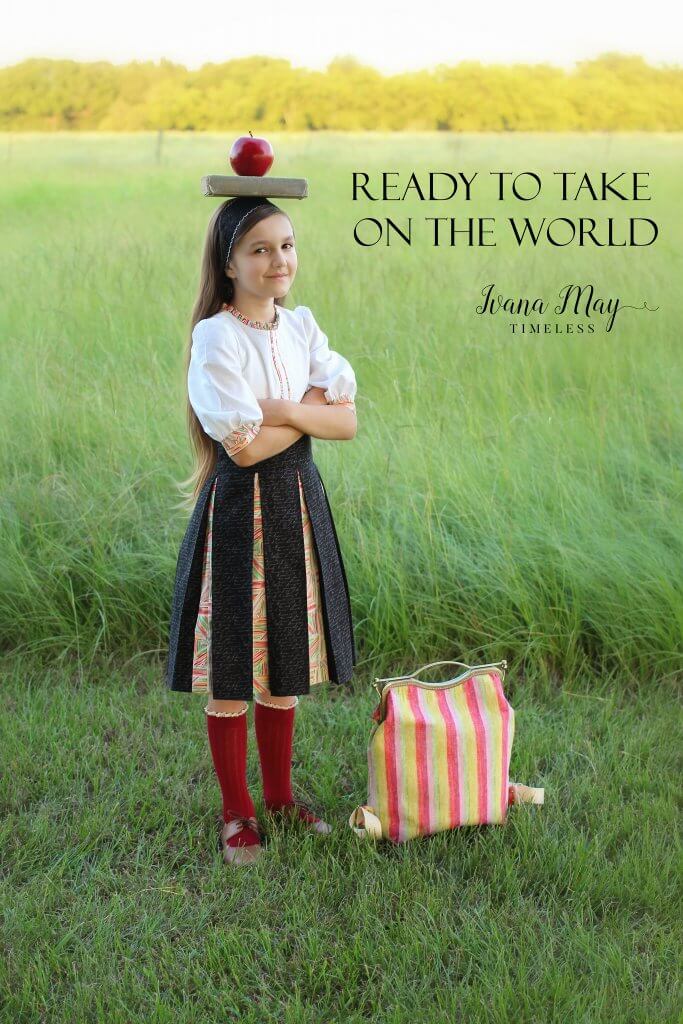 For this look I combined a few of my favorite patterns from Vintage Little Lady.
White Top – I used Layton bodice with a ruffle collar, added 4 pintucks and faux piping on the center front. Then drafted gathered, bubble, 3/4 sleeves with simple cuffs which are elegant and perfect for any occasion. At the back button closure for fun I added a 1/4″ faux piping accent strip. I used White Fish School cotton from Cali Fabrics and Painterly fabrics by  Bari J from Art Gallery Fabrics.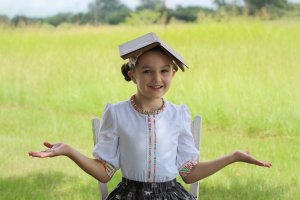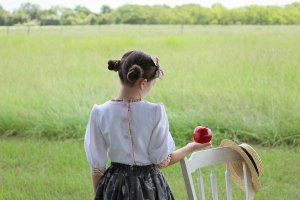 Art, Reading & Spelling
My first Skirt is presenting our love for Art, Reading & Spelling. I wanted to make it really fun so I used Contrast Box Pleat technique with painterly fabric by Bari J. from Art Gallery Fabrics. The details are very important to me so I hemmed the skirt using 2 different colors of thread for each section (just a little ocd over here).  For pleats & math calculations I started with Dragana dress, my pattern for B2S collection for VLL. Precision and exact measurements are very important when creating box pleats. Measure twice- Iron once))) I added high waistband and invisible zipper closure on the back of the skirt.  Since Ivana loves spelling and cursive writing so much  I was excited to use this amazing print from Anne Rowan from Wilmington Prints.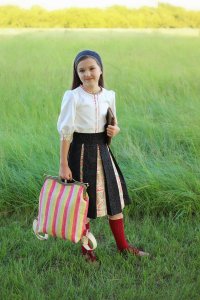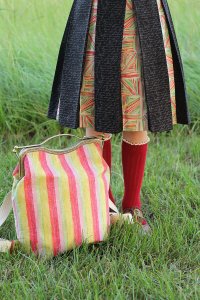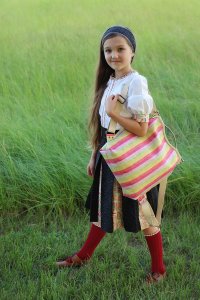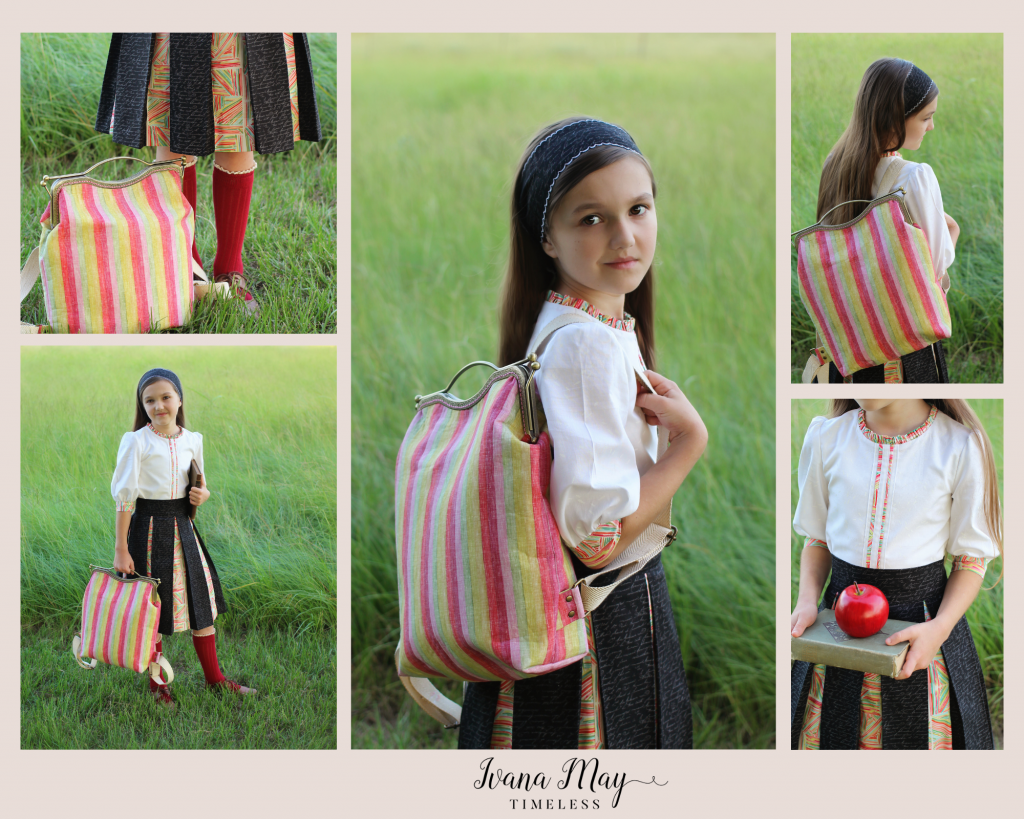 Geography & History
For the second Skirt I created a simple, sweet  & casual Bubble skirt pattern.  I cut the main fabric 6" longer than the lining to create a fun puffy look, with an elastic waistband for easy on and off. We love to travel and have visited 46 states together. Geography is one of the best subjects to teach while on a road trip! This year we are crossing the ocean to explore more of the world history so this Riley Blake Fabric  – My Heritage was a perfect match .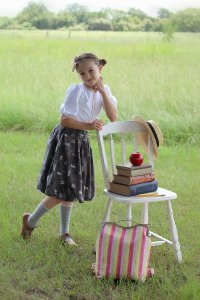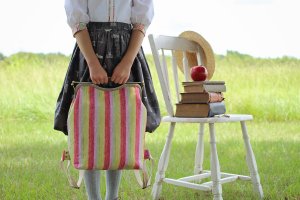 I added a few accessories: small Bailey bow and with the same Scallop technique I created a Matching Ribbon Headband. Its a versatile hair accessory and you can use it for your ponytail too.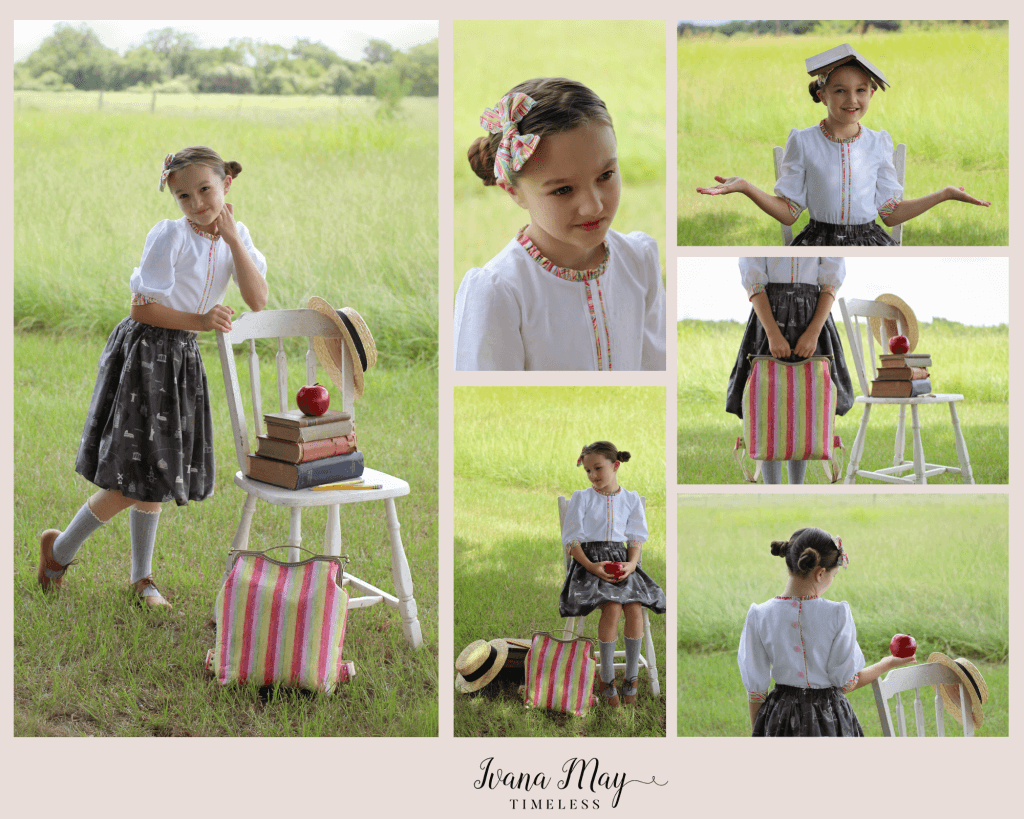 Field Trips
My favorite thing to design for this week was a backpack.  I used my 2 patterns Emeline and Ma Cherie as a starting idea. With a few modifications and a LOT of hand stitching I created a vintage yet modern accessory. It will be perfect for all our field trips. This amazing crayon colored like fabric is from Bec Williams Designs. The kiss lock frame is made form antique brass and is decorated with a beautiful unique design. Adjustable shoulder straps make it comfortable to wear. This backpack is a perfect vintage size – not to big and bulky, yet large enough for brining new books from the library or carrying paint brushes and a canvas…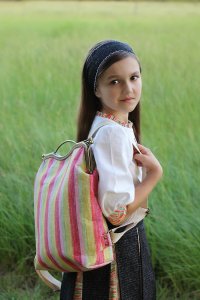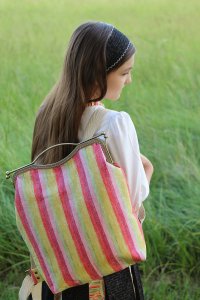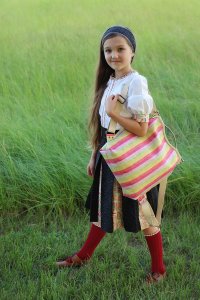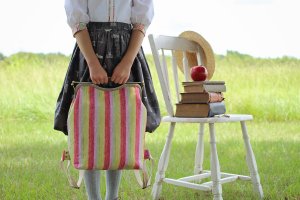 So, we are all set to take on the world!
Please be sure to check Project Run And Play  and vote for your favorite look this week.
You can also join and sew with us during the competition. Click here  
for more details.
With Love,
Milja